---
---
---
---
---
One place to manage and automate all your HR and people work
Teamhouse is the no-code platform for HR and Ops teams. Manage, automate and scale your HR and people processes, and stop spending hours in spreadsheets or thousands on SaaS.
---
---
---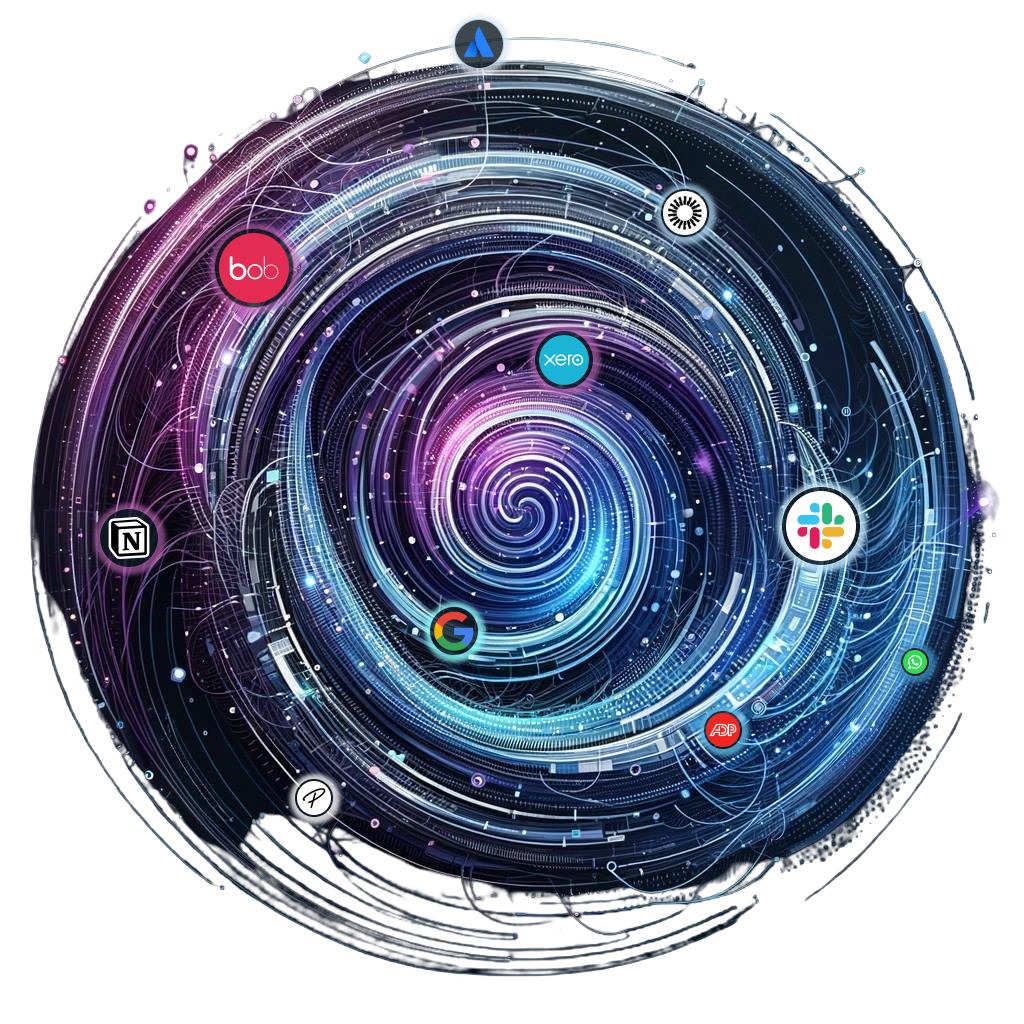 ---
---
---

No-code automation
Why no-code HR? So you can do more, faster, without developer help. Teamhouse's workflow builder lets you customise templates to automate your people admin and processes - without needing the CTO.
Distributed by default
Teamhouse is built for for you and your team, wherever you work. International policies and bank holidays, integrations with EORs and more.
---

Easy collaboration
People processes always involve more than one stakeholder, so we're building software to support employees, managers, teams and partners - no more email tennis, no more missed approvals in Slack.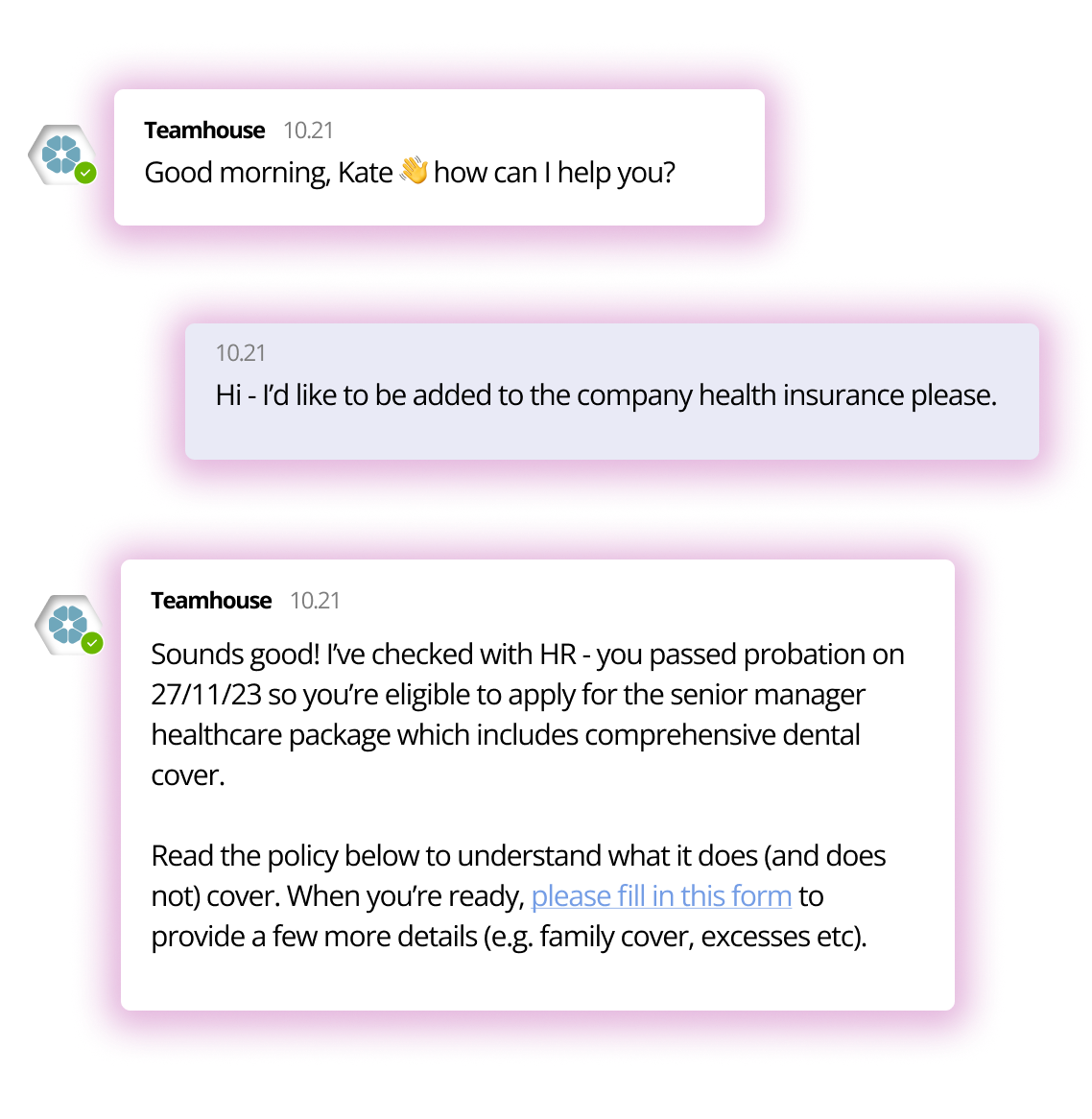 No more spreadsheets
All of your people data and decisions, all in one place - our ambition is to reduce the number of spreadsheets you use to manage your people work, to zero.
---
---
Life gets complicated, unproductive and inefficient
Increasing headcount means adding more people processes, subscribing to more SaaS tools, generating more data, and managing more tasks.Life gets complicated. HR and ops teams do less strategic work, and spend more time working in spreadsheets and email and chat. It's why data and decisions get lost, processes aren't followed, work is hard to automate and it's why you have more tools than you need.
---
A simpler, better way is coming
Imagine being a HR or ops lead that doesn't do the same job twice. Imagine having visibility and control of every step in every people process. Imagine HR, ops, finance and IT collaborating on people processes in-sync, in one place.We're business builders. We felt the same frustration as you in every one of our last six businesses. That's why we're building Teamhouse.
---
Privacy Policy
---
Last updated: 5th March 2023
---
Teamhouse Ltd is committed to protecting the privacy of its customers and users. This Privacy Policy outlines how we collect, use, and disclose information when you use our services, but if you have any questions then please get in touch with us at privacy@teamhouse.co.By using our services, you consent to the practices outlined in this Privacy Policy.Who are we?Our trading name is Teamhouse, and our incorporated name is Teamhouse Limited. Our registered office is Ormeau Baths, 18 Ormeau Ave, Belfast BT2 8HS. We can be contacted at privacy@teamhouse.co.Information We CollectIf you visit our website we won't collect any personal data, but if you contact us or interact with us via email, forms or social media, we may collect personal data.Specifically:• If you sign up for our waitlist, or to receive our newsletter
• If you email us or contact us via an online form
• If you sign up as a customer of our services
• If you engage a social media account associated with Teamhouse Ltd
• If you apply for a job with usHow We Use InformationWe use the information we collect to provide and improve our services, to communicate with you, and to comply with legal obligations. For example, we'll need to record and store your information if you pay for our services. If you agree to receive marketing information from us, then we're likely to send you marketing information, but you'll be able to opt-out of these communications at any time.Data RetentionWe retain personal information for as long as necessary to provide our services and to comply with legal obligations. We may also retain non-personal information indefinitely for research and analytical purposes.Third-Party Sub-ProcessorsWe use the following third-party sub-processors to provide some of our services:[Placeholder for list of sub-processors]These sub-processors may have access to personal information, but we require them to comply with our privacy policies and to use the information only for the purposes for which we engage them. We regularly review our sub-processors to ensure that they continue to provide adequate data protection.SecurityBecause we store sensitive information as part of our day jobs, you can expect us to protect personal information from unauthorised access, disclosure, and misuse. However, no security measures are perfect, and we cannot guarantee the security of your information.Changes to this Privacy PolicyWe may update this Privacy Policy from time to time. We will notify you of any material changes by posting the new Privacy Policy on our website. You should periodically review this Privacy Policy to stay informed about our information practices.Contact UsIf you have any questions or concerns about this Privacy Policy or our information practices, please contact us at privacy@teamhouse.co.